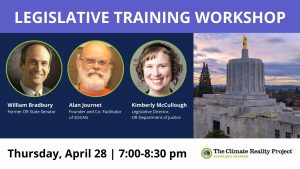 Join us for a free webinar and hear tips and advice from local experts on how to advocate for climate action in the state legislature.
Our speakers:
William Bradbury – Former OR State Senator: Value of meeting with legislators, best practices.
Alan Journet – Founder and Co Facilitator of SOCAN: OLIS (Oregon Legislative Information System) system.
Kimberly McCullough – Legislative Director, OR Department of Justice: Get tips and advice about legislative advocacy and insights into specific legislative leadership positions & committees of particular relevance to climate legislation.
Climate Reality Portland Legislative Task Force appreciates all efforts to guide and educate the Oregon state legislature in passing critical climate legislation.